Public health focuses on population health, including a wide range of  sub-fields such as epidemiology, environmental health, occupational health, nutrition and food hygiene, health behavior and health policy ( West China School of Public Health, 2021; Rhodes & Bryant, 2021). In my opinion, public health is gaining increased public attention in China due to three main factors. First, the outbreaks of life-threatening infectious diseases in a world wide range has made it an imperative task to find effective solutions to disease prevention and control due to the fact that quite a number of infectious diseases, such as COVID-19, SARS, avian flu, and HIV/AIDS are extremely difficult to be completely eradicated, while disease-targeted vaccines typically take a long time to be developed with no 100% guarantee of effectiveness In addition, in the era of information technology, the protection and promotion of worldwide population health is confronted with unprecedented challenges posed by rapid economic growth, industrialization, urbanization as well as globalization, thus highlighting the necessity of making joint efforts via the collaboration of worldwide nations in order to achieve public health-related goals(Wu & Li, 2017). With dramatically increased access to health-related information with the emergence of various social media platforms, the convenience of gaining health-related knowledge has been significantly improved for worldwide residents, thus further improving residents' awareness of sticking to healthy life behaviors as well as boosting their motivation for engaging in public health-related occupations as their further career paths.
As a master's student enthusiastic about public health-related endeavors, I would like to share my own experiences as an example to illustrate things that public health students would go through before graduation. As a student majored in preventive medicine, I spent five years on my undergraduate program to get my bachelor's degree of medicine, which was comprised of four educational stages, including general education, fundamental medical courses, training in clinical medicine, and training in public health. Core courses required to be accomplished by undergraduate students in this program included biology, biochemistry, physiology, pathology, internal medicine, surgery, obstetrics and gynecology, pediatrics, psychiatry which were consistent with compulsory courses for clinical medical students. Based on the acquisition of fundamental medical knowledge, a list of courses intended for providing public health-related expertise were also required, such as epidemiology, biostatistics, environmental health, occupational health, nutrition, toxicology, health policy and health management. Most of these courses were completed in the first three years, while both clinical internship and public health internship were arranged to be completed in the fourth year.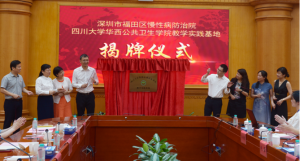 The clinical medical internship conducted after completing all the essential coursework required for our major enabled us to gain valuable experiences working in different clinical departments where I had a whole picture about the workflow going through various healthcare professionals in attempt to provide patient-centered medical services. Such clinical experience as a co-op student also significantly improved my understanding about issues persistently embedded in the process of medical service delivery, including the lack of high-quality medical resources, patients' affordability of medical costs, the limited capacity of China's medical insurance scheme for making reimbursement as well as other issues such as over-prescribed drugs and clinical tests which not only adds difficulty to diagnostic procedures but also poses unnecessary financial burden on patients. All these issues are commonly investigated in public health-related studies.
In addition to clinical internship, students are also required to conducted internship in public health-related institutes. West China School of Public Health has many collaborative CDCs (Centers for Disease Control and Prevention) to be used for students' training purposes.  As most of these public health-related institutes are located outside Sichuan province, the internship was found to be an excellent opportunity for conducting field visits in different regions as well as experiencing local residents' lives from the perspective of public health. Students were assigned to different internship locations based on both their own preference and the availability of particular CDCs. As the primary medical institution associated with public health students' future career opportunities after graduation, CDCs have been established to create safe and healthy environments for local residents, to ensure the safety as well as to maintain the stability of regional societies, and most importantly, to facilitate population health promotion via preventing and controlling diseases, injuries and disabilities (CDC of China, 2021). As a technical organization specialized in public health, tasks and activities expected to be accomplished by public health students throughout the internship involved a wide range of issues to be addressed in the field of public health, such as  conducting epidemiological surveys on food poisoning and infectious diseases, conducting field visits  to hotels, KTVs, playgrounds, swimming pools, factories, and markets for sample collection purposes, which also provided students some hands-on opportunities for data input and entry-level statistical analysis. As part of the internship, valuable experiences were also gained from communicating with local residents with different backgrounds and socioeconomic status, which enabled us to have a deeper understanding about the impacts of socioeconomic factors on healthcare outcomes. Despite that it seems public health practitioners are not that directly associated with healthcare outcomes as compared with clinical healthcare professionals, the internship enabled students to have a deep understanding of the indispensable roles that public health workers have been playing via making contributions to population health promotion and maintenance in a wide range of areas.
In addition to internship training arranged by the school, students are also encouraged to participate in research projects, social practices, as well as innovation and entrepreneurship competition events. Quite a number of health-related research projects prefer to recruit public health students as investigators, for which job-related information will often be provided to students by faculties teaching in West China School of Public Health or from senior to junior students. Some large-scaled research projects would even post job opportunities on their own official websites to expand the range of recruitment from the whole society. In addition to research opportunities, a series of events will be held annually to provide students with great opportunities for conducting social practice or participating in innovation and entrepreneurship competitions. Experiences gained from those events will significantly benefit students via adding extra points to scholarship awards applications or the nomination of outstanding students. During the five-year undergraduate study program of public health, students would have to choose to participate in the most beneficial events for them in terms of obtaining academic or professional experiences needed for job seeking or pursuing higher degrees after graduation.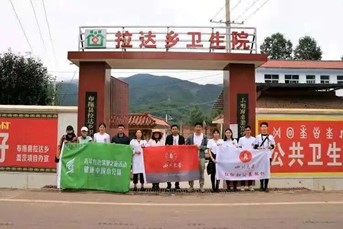 In terms of future career path after graduation, in addition to CDCs as previously mentioned, pharmaceutical companies and Contract Research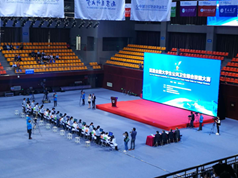 Organization (CRO) are both potential employers to provide public health-related job opportunities with relatively handsome income. Students' with bachelor's degree in this field are usually hired by positions intended for assisting clinical trial procedures, while graduates with master's or doctoral degrees are usually hired by research-related or analysis-related positions from research institutes as programmers or information analysts. In addition, quite a number or large-scaled hospitals would also provide administrative or research positions, which typically require applicants to have master's or doctoral degrees of public health. Despite that compensation offered by hospitals might be lower than pharmaceutical companies, quite a number of graduate students prefer to work in hospitals due to the stability of job positions with low risk of unemployment. In recent years, an increased number of graduates choose to compete for civil servant positions which are mainly provided by Administrations of Customs or Health Commissions in China via passing relevant certification exams. Civil servants typically enjoy better job stability, higher compensation as well as better well-fare compared with public health practitioners working in other public non-profit institutions, whose job responsibilities mainly involve creating healthy and friendly living environments for residents.
References:
CDC of China. (2021). Brief Introduction of Chinese Center for Disease Control and Prevention. Retrieved 09-08 from https://www.chinacdc.cn/en/
West China School of Public Health. (2021). A brief introduction of West China School of Public Health, Sichuan University. Retrieved 09-08 from https://wcsph.scu.edu.cn/hxggwsxyenglish/About_Us.htm
Rhodes, P., & Bryant, J. H. (2021). Public health. Encyclopedia Britannica. Retrieved 09-08 from https://www.britannica.com/topic/public-health
Wu, T., & Li, L. (2017). Evolution of Public Health Education in China. Am J Public Health, 107(12), 1893-1895. https://doi.org/10.2105/ajph.2017.304110