I learned Public Health from the Streets of Beirut…

My name is Khawla; I am originally from Baalbek. I hold a B.A. degree in Psychology from Berea College in KY and recently attained my Master of Public Health Degree at the Faculty of Health Sciences, American University of Beirut, concentrating in health promotion and community health.
In October 2019, amid chronic political mismanagement, deteriorating economic crisis, and lack of social security nets, creative forms of protesting emerged from the community. People across Lebanon took the streets, demanding their fundamental human rights and asking for systemic changes. In this piece, I share my reflection on community-based experiences I had during "Thawrit Tishreen," the October Revolution in Lebanon, drawing links between those experiences and Public Health Lessons.
Note: I took all photos in this post during 2019, before COVID-19, thus the absence of social distancing and masks.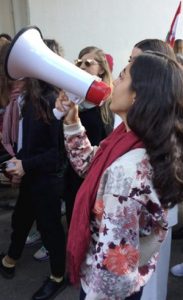 Marching for Women's Rights
In December, I joined my community as we marched, chanted, sang, and danced for women's rights against patriarchal oppression and all forms of sexual violence. The march was followed by choreography and songinspired by Chile's movement. I recall powerful moments when we acknowledged those at home who could not be with us on the street, and we chanted in their voices. We paused under buildings along our way towards the parliament, and we made sure that our voices of solidarity and support reached their homes. Many women and girls joined us from their balconies, including migrant domestic workers. They were clapping, creating music with pots and pans, or observing in silence. While marching, gender equity and women rights organizations, such as Abaad, were carrying signs for helpline numbers and resources available. These moments of standing up for rights, speaking loudly against oppression, and sending support in unconventional methods are public health acts.
Standing in Solidarity with Cancer Patients
The streets of Beirut offered a space for groups within the community to express their needs and voice their asks. During my time as an MPH student at AUB, I volunteered with Barbara Nassar Association hosting chair yoga sessions for cancer patients, cancer survivors, and their families. During their organized stand, I joined them in solidarity, demanding free, uninterrupted, and dignified access to care and treatment. Several members from the organization were interviewed live, sharing their stories and expressing the need for systemic change in public healthcare. I learned the importance of inclusive, participatory, and community-centered approaches in policymaking and healthcare system governance.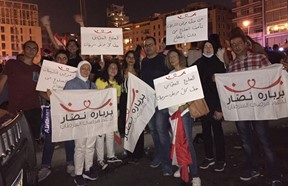 Reclaiming Public Spaces
The most memorable community event that I attended was an organized traditional Lebanese breakfast picnic. Thousands of people came together to reclaim public spaces from a privatized coastal property in Beirut. These classist privatized areas sharpen the scene of disparities and divide and have damaging consequences on natural and personal environment health. Using art, culture, dialogues, and creative tools, the community found ways to express the need for accessible public spaces to promote belonging and wellbeing. We could go downtown and eat meals together in the square during the protests and see storefronts covered with art made by children about the Lebanon they dream of. Local vendors, small business owners, and families would bring food and produce and set up booths in the square- for the first time in a long time, people became able again to afford "eating out" in downtown Beirut. Youth groups and children would participate in recycling activities and street cleanup initiatives to keep the protest areas welcoming and taken-care of. We felt a renewed sense of Beirut belonging to people again. These peaceful forms of collective organizing taught me the importance of community-centered action to promote societal and environmental well-being, which is an essential method in community health and health promotion.

"Meeting people where they are"
The 2019 National Breast Cancer Awareness Campaign was launched in October (Oct 2019-Jan 2020). During this time, hospitals and clinics across Lebanon offer either free or reduced breast cancer examination testing. My sister Nataly, a feminist cancer researcher and founder of Pink Steps Lebanon, carried a sign that says, "Because the Revolution is a Woman, Do Not Forget to Have a Mammogram." She used this piece of cardboard and simple message to reach women in the community either directly or indirectly and to remind them to continue to take care of themselves and make them aware of the accessible resources available. Many people stopped her to ask more questions, either for themselves or their family members and loved ones. She also shared the sign on social media to increase the message reach within her network and beyond. This is an example of an effective health communication concept – "to meet people where they are, not where you want them to be."

Social Solidarity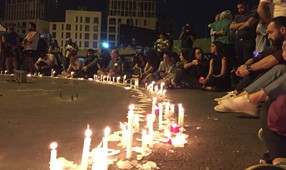 Overall, an overwhelming sense of social solidarity exists among the population in Lebanon and took many forms during the protests. I joined people in forming a human chain from Tripoli in the North to Tyre in the South, expressing unity, connectedness, and solidarity. Throughout the months, there were several candle vigils, health circles, and many other collective gatherings. Those symbolic acts of expression and action offer healthy spaces for reflection, affirmation, and dialogue. Community needs, strengths, and networks should be at the center of Public Health planning, research and practice. I will carry my immersive experience and lessons learned during the revolution in Lebanon to inspire my recommitment to Public Health and guide my practice.